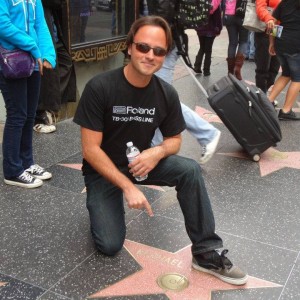 Mike was born in Belgium on January 16. He has been an electronic music Dj since the mid nineties. At first it was just a hobby, but afterwards he realized that become a pro dj was what he wanted the most. After a study break he seriously began DJing at rave parties & clubs in 2003.  Mike is a SAE.edu certified Electronic Music Producer (2005). From then he started to produce various acid techno tracks.
Mike is the proud owner of rare vintage analog machines such as the infamous Roland TB-303 & Roland TR-909, amongst other acid toys.
He founded his first electronic music label in 2012 : MMA Records.
When he came back from San Diego, Mike joined

WCIA Crew

in June 2014. WCIA (we call it acid) was formely known as Acidfood Concept where Mike took a great pleasure to participate before going to live in USA for three years.
He founded his second label  in January 2016  : Analog Experience Records
Mike is now collaborating on various EP project with local and international Acid Music Producers – Stay Tuned! 
Mike played Live Performance alongside with great music talents such as Mike Dred, Outlander, Mr Gasmask, Analog Devices, DJ Snoop Talkbox, Ege Bam Yasi…
And spinned alongside with great DJs such as Gee Moore, Little Pat, Toxic R8, D-Jack, Jon Sa Trinxa, Menaz, L-reak, Popane, Tania Vulcano, Mano Sinistra, Koeni, Youri Parker, Zzino, Arkanoid, Klaina, Lobotomic Sequences, Tom's, Deg, Seal Phuric, Mbx, DJ Jos, Soul3d,  EEDX, Stel-R, Murvin Jay, Ynux,  Greg. B, DJ Here Production.. and so many other friends.
Mike is a part of the

Belgian Resistance

  group which is a group of acid friends (the bassline family), all owner of at least one unit of the legendary TB-303! They are a now working toward achieving an ambitious goal :  A Gathering of minimum  40 TB-303 Units and therefore earning the world record which belongst to the Detroit Family  of Underground Resistance.

This project is very likely to happen soon and you don't  wanna miss it.


My most popular tracks