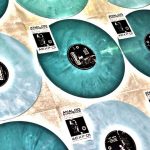 Analog has been founded on January 16th 2016. It is an independant label based in Brussels, Belgium. AEXP will propose some music made with vintage analog machines (Roland TR-909-TR-808-TR-707-TR-606-TB-303-SH-101-MC-202-JUNO-106-MONOPOLY-MPC-60-LEXICON-PCM-BOSS…). For it's first opus released on May 4th 2016, AEXP will transport you right in the middle of the mid-nineties. You will immediately recognize that legendary pure analogic sound.
http://www.analogexperience.be/
AEXP – 001 – We control the transmission EP
This EP is only for true ravers, it has this special warehouse feeling.
Format : 12inch Vinyl, Belgium
Limited  turquoise edition & Limited plain white edition
*Vinyl only* – Acid – Techno – Hard – Electro – Experimental
A-Side is totally oldschool acid with a first solid acidish track immediately followed by a pure acidcore banger that will unleash full energy once spinned. Third track is more like an intro/dj tools with that sound sampled from real industrial machines.
B-Side starts things off with another life, a splendid another dimension track that combine synthetic melodies with a subtle acid touch. The two other tracks are more psychedelics with crazy rhythms and hypnotic melodies. Ideal for 707 lovers.
Feedback from Toolbox Records : Electro And acid, techno and broken… 2 Long tunes on the beginning of each side with a short bonus. First opus from a fmilly bizness of acid belgium sound…. "Awakening of modern vintage sound – Must have !"
Tracklisting :
A1-Lnt Mike – Muscle Tear    (Techno-Acid)
A2-Lnt Mike – Bonebreaker   (Acid – Hard)
A3-Lnt Mike – Dark Materia  (Experimental)
B1-Gomanu – Another Life     (Acid-House)
B2-Gomanu – Mananiak         (Electro-Experimental)
B3-Gomanu – Robotane          (Electro-Wave)
Preview at AEXP Youtube channel – Buy it at discogs